Recipes for Smoothies and More!

Recipes for smoothies, whether they are green smoothies or homemade fruit smoothies are easy tasty and raw!
The goal of all smoothie making is to combine raw ingredients to produce a nutritious wellness enhancing drink that makes your taste buds dance for joy!
Using your imagination and your blender, you can easily whip solid fruits, vegetables, and greens into a tasty and super- nutritious drink!

There are so many different types of smoothies. But what all have in common is that they incorporate some type of fruit. There are fruit smoothies, there are green smoothies ,where greens are added to the fruit and liquid, and there are smoothies which have vegetables added too.
Here are some delicious recipes shared by my readers:
Kale-Licious Green Smoothie Recipe by Mimi from Texas, USA
Ingredients:
5-6 large kale leaves (stems removed)
handful of cilantro or parsley
1 stalk of celery
2 bananas
1 cup of blueberries (fresh or frozen)
1 apple
pinch or two of cinnamon
3 cups of water

Directions:
Place all in a blender and blend until smooth. Enjoy!
Annie from Tasmania says, "We love smoothies, either for a quick breakfast, or as a snack during the day. The whole family often takes a container with the smoothie for the day pour into it in the morning, then we can use it as an energy throughout the day. Here's one of our more unusual smoothies: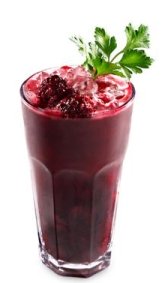 Berry Beetroot Smoothie
Ingredients:
1 young coconut, milk and meat
4 small beetroots (the small ones are sweeter and more intense flavor)
2 cups of fresh blueberries or frozen berries
1 tsp fresh grated ginger

Directions:
Blend and slurp!

Serves 4 - easily doubled if you want big glasses or extra to take away.
Most Delicious Smoothie!

1 1/2 Cup almond milk
5 organic kale leaves OR 5 leafy tops of celery ribs
1 banana
1 cup peaches fresh or frozen
2 teaspoons of raw honey

Directions:
Add all to your blender and process on high until smooth.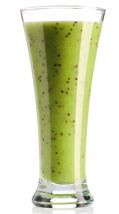 If you have enjoyed these recipes for smoothies, check out the Smoothie Section at Healthy Smoothie Recipes.

Other Raw Recipe Pages:

Kitchen Appliances I really LOVE!

---

Go from Recipes for Smoothies to HOME of Raw Food Diet Magazine