The Superfoods Diet is Composed of Many Top Foods
Want a superfoods diet? Here is a list of some nutrient-dense foods that raw foodists and cooked foodies alike should consider adding into their diet.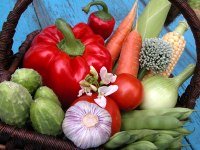 Eating raw foods is really being on a superfoods diet! This is because raw foods are so nutrient dense and loaded with enzymes that you won;t find in cooked foods. Here is a list of several top foods that are considered "superfoods," and this is only a partial list. If your favorite superfood is not listed here, please don't get upset. Any fresh, organic, raw fruit or vegetable can truly be considered a superfood. After getting acquainted with the health benefits of these particular superfoods, perhaps you will refer to your raw diet lifestyle as being on a "superfoods diet."
Follow the links to learn more about these particular superfoods and get superfood recipes— raw, of course.
A Partial List of Superfoods for a Superfoods Diet
Amla - This sour little berry is rich in Vitamin C and touts many benefits that makes it a true superfood. 
Apples - The tasty humble apple, which if you eat one a day is supposed to "keep the doctor away". This saying has much truth. Decide for yourself when you learn about the health benefits of apples.

Asparagus - There are many asparagus health benefits, some of which you may find surprising. Although this is a favorite cooked vegetable, you can get health benefits from asparagus by either juicing or adding it to smoothies.

Avocados - This green gem is high in fat— good fat that is. The calories in an avocado are nothing to fear and the nutrition is something to embrace.

Bananas - This popular fruit is shaped like a smile for a very good reason. Follow the link to learn some happy banana health facts here.
Bee Pollen - Bee pollen is touted as the one food that contains all the vitamins, minerals, amino acids, and protein that a human needs to survive. It has medicinal qualities including the use to help with allergies.

Beets - The benefits of beet juice can't be beat! The crimson juice contained in dark red beets is a powerful detoxer and full of antioxidants ready to give you a super boost.
Cacao - Cacao is the raw form of chocolate that is high in magnesium, iron and minerals. Cacao is full of antioxidants and is a great energy booster as it does have a natural caffeine. I find cacao to be very stimulating, so be careful to not over indulge in it especially in the evenings as it might keep you awake at night.

Carrots - These beautiful orange roots offer so many benefits that go far beyond helping your eyes. Learn more about the health benefits of carrots and start enjoying all of their goodness.

Cashews - This sweet nut is so versatile and especially favored in the vegan raw diet. The health benefits of cashews is similar to many nuts and includes, among other benefits, weight loss.

Celery - You may be surprised at the nutritional nutritional value of celery. This stately vegetable contains much more than just a loud crunch!
Fermented Foods - Considered raw, fermented foods as an excellent way to get enzymes and macrobiotic nutrients into your diet.  This includes fermented pickles, kombucha, kimchi, and sauerkraut.
Flax Seeds - These little tiny seeds have a mountain of health benefits including a large amount of omega-3's.  This makes them a marvelous addition to the raw food diet.

Gogi Berries - These berries are high in antioxidants, protein, calcium and contain 18 amino acids, and many essential minerals. Thye have been used for 1700 years as food and as medicine.
Hemp Seeds are an excellent source of protein. It contains all the 20 amino acids, good fats and Omega fatty acids. I like to put a scoop of organic hemp seeds in my morning smoothie to ensure a balance of plant protein to start my day. It has a nice nutty flavor.
Honey - The benefits of eating honey are sweet and then some. Natural raw honey is a welcome addition to your raw diet while it offers benefits for your general health.

Kale - Kale nutrients are numerous, making kale the most nutrient-dense vegetable. This pretty leafy green is a member of the cabbage family and a favorite of raw foodists.
Maca Root - If you wish to balance your hormones, male or female, this is a superfood worth adding into your daily green smoothie.

Mushrooms - Mushrooms tout some amazing medicinal qualities, as well as super-good nutrition.  Chaga, shitake, cordyceps are just a few of my favorites.  I like to get them in the powdered raw form to add to smoothies and recipes.

Parsley - This humble and pretty herb is far more than a garnish to be discarded. Learn about the many benefits and start munching.

Sea Salt - What is the huge deal about sea salt? Learn about sea salt vs. table salt One is actually good for you and offers health benefits, including lowering blood pressure.
Sprouts - Sprouting nuts and seeds can not only increase their digestibility but can also increase the nutrition of the nut or seed by many times, making these little nuggets a super food!

Tomatoes - Tomatoes are a wealth of nutritional goodness. Have you ever heard that cooked tomato products offer greater levels of antioxidants and therefore, are better for you? Follow the link to explore raw tomato nutrients.
Wheatgrass - Wheatgrass contains 70% chlorophyll and gives you a healthy huge burst of energy quickly after drinking it.  It also has many other health benefits that I know you will be willing to try it, after reading this page!

Wild Foods - If you want to add nutrition to your greens, then harvesting edible wild foods may be just the place to go!  Some are very high in nutrititive value and you may be surprised to know..they are usually in your own backyard!
These superfoods are common foods that you can easily buy, enjoy and eat. As you incorporate your version of the superfoods diet into your daily diet your body will welcome it and you will be on your way to enjoy super health and wellness.
Hopefully, this list will have you hungry for more health benefits and good taste offered by every fresh fruit and vegetable.
Go from Superfoods Diet to HOME of Raw Food Diet Magazine