Healthy Smoothie Recipes for Quick Raw Meals
Here are a few healthy smoothie recipes including a basic green smoothie recipe.
Healthy smoothie recipes are delightful. Add ice to make extra cold in the summer, and always nourishing in the winter. Adults and Children alike LOVE them, and they are really fast, easy and fun to make. 
You can keep your eyes open for new recipes and/or just throw in what you have in your refrigerator.  I watch for sales on fruit and freeze for later use, making them still inexpensive to make.
Healthy smoothie recipes can be very basic or you can explore with adding greens or superfoods such as maca powder, coconut oil, hemp seeds, chia seeds, raw supplements, raw sprouted grain protein powder.  The list is absolutely endless, therefore making smoothies can be an exploration of taste and preference.
And when you think about how much raw food you can pack into one drink, you realize the enormous nutrition you are taking into your body. It would be difficult to eat the same amount of food in one sitting.  And then, add in a few greens, and you just vamped up the nutrition even more.  And if you have children, you just got them to eat a serving or two of greens and they didnt even know it!  Throw your cape on, SUPER mom!

---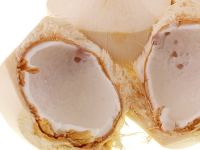 Berry Berry Tropical
Ingredients:
1 cup of strawberries
1 cup of blueberries
Meat and juice of one young coconut

Directions:
Place all in a blender and blend until smooth.
---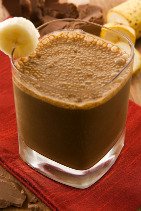 Chocolate Smoothie
Ingredients:
2 frozen bananas (frozen bananas thicken the smoothie)

2 cups rice milk, almond milk or coconut milk
*3 medjool dates (make sure to remove the pit)and finely chopped
2 Tbsp. of organic cocoa powder or

raw cacao powder*

optional: 1 tsp flax seed oil (can add for Omega 3 benefits- does not change flavor)
*date substitutes: 1 - 2 Tbsp of honey, black strap molasses or agave

1 cup of ice
Place all ingredients in blender. Blend until smooth. Makes enough for 2 large glasses or 4 smaller cups.
---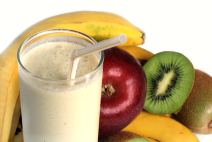 Peaches and Cream Smoothie
Ingredients:
1 cup of cashew milk
1 fresh peach or ½ cup of frozen diced peaches
½ teaspoon of cinnamon
1 teaspoon of raw honey
Directions:
Place all in a blender and blend until smooth. Thirsty for MORE healthy smoothie recipes? Check out Breakfast Smoothie Recipes.
---
Once you know a few smoothie recipes and know how to make smoothies, you have all that you need to whip up simple, healthy, nutritious, raw blender meals more commonly known by the delectable, healthy, delicious name of "smoothies!"
---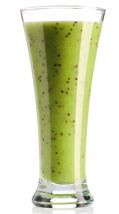 Basic Green Smoothie Recipe
This is only an outline of a green smoothie recipe. Using this basic guide, you can add and create just about any type of a nutritious blender meal. Enjoy!
Ingredients:
1 to 2 cups of loosely packed greens (herbs, wild greens, spinach, kale, cabbage, wheat grass, lettuce, etc.)
1 banana
1 to 2 cups of raw fruit of any kind
1 cup of pure water

Directions:
Remove the tough stems from your greens unless you have a very high powered blender. For added sweetness, try soaked dates or raw honey. You can also add a sprinkle or more of cinnamon or a ¼ inch of fresh ginger root. Both will add nutrition and taste. Adding bananas, avocados, hemp or flax seeds will not only change the taste, but give a bit more "body" to your smoothie.
Place all in a blender and blend until smooth.
---
Whenever I blend a green smoothie, I always marvel at the sheer beauty of the super healthy foods that I anticipate drinking. The vibrant greens contrasted with the deep blues of blueberries, the unabashed reds of strawberries are a marvelous and edible piece of art.  That is the way I look at food preparation.

Green Smoothie Recipe Tips
When creating a green smoothie recipe, you'll want to have the approximate amount amount of fruit and greens. Since greens are so good for you, I try to shift this ratio to more greens than fruit; you decide. Sometimes, especially if you are using strawberries, a green smoothie may not look too green but as the combination of greens and fruits can sometimes blend up to a pinkish or a little brown.  

My best recommendation to a green smoothie is to add in a banana as it adds a bit of sweetness and it cuts the green flavor.  I always make sure to have fresh bananas in the kitchen and I like to store a few ripe, peeled bananas in the freezer as it makes for a smoothie anytime.

Vary the types of greens that you use since different greens have a different nutritional makeup. When you rotate different types of greens, you will be giving your body a whole buffet of phyto-chemical treats!
Want MORE Green Smoothie Recipes and Information?
If you like the idea of a simple, nutritious, raw food that is easy to make, goes anywhere and keeps cooked food and sweet cravings away, I highly recommend the books Green for Life and Green Smoothie Revolution by Victoria Boutenko. These books will allow you to access many different green smoothie recipes to keep your taste buds happy and help keep you on your raw diet.
Your Smoothie Recipe!
Do you have a favorite smoothie that would fit in the category of Healthy Smoothie Recipes? If so, then please share it. Go to Raw Living Food Recipes and look for "Recipes for Smoothies". Even if you don't have a recipe to share, you'll be able to see (and try) raw recipes from others.
Other Smoothie Pages:

Kitchen Appliances I really LOVE!

Go from Healthy Smoothie Recipes to HOME of Raw Food Diet Magazine