Fresh Vegetable Juice Recipes Part 3
Here is Part 3 of a collection of fresh vegetable juice recipes. Obviously, one of the many benefits of juicing is making your taste buds dance!
There are so many good tasting and good-for-you fresh juice recipes made with vegetables. This is a great way to drink in some of your servings of veggies. The benefits of juicing are many so give a few different recipes a try to find ones that you will enjoy. 

Here are two fresh vegetable juice recipes from Mary Jolley, author of The Green Diet.
Pineapple Mint
2 cups of fresh pineapple chunks
2 apples, cored
9 mint leaves

Run the ingredients through a juicer, strain it through a mesh sieve if desired and serve chilled. Makes about 2 cups.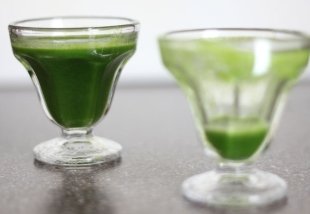 Green Apple
2 cups of baby spinach leaves
1 apple
1 teaspoon of lemon juice

Put the spinach leaves through the juicer first, than juice the apple. Squeeze in 1 teaspoon of fresh lemon juice and stir. Makes about 1 cup.


Penny Sparks from Raw and Ripe says, "Vegetables rank the highest along with beans as having the most nutrients of all foods and food groups. Also, per calorie, most vegetables have more protein than meat and more calcium than milk. Celery juice is one of the best post-workout drinks an athlete or fitness enthusiast can consume because it replaces lost electrolytes and re-hydrates the body with its rich mineral content, as well as help normalize the body's core temperature. So when you mix the other vegetables and ingredients like ginger, garlic, and lemon into your juice you are getting a huge bang of nutrients, vitamins, minerals, trace minerals, and amino acids that all contribute to healing and regenerating your body at the cellular level."
If Penny's enthusiasm about fresh vegetable juice recipes makes you thirsty for more, read on!

Here are two great fresh vegetable juice recipes contributed by Penny:
Penny's Power Protein Recovery Juice
5 leaves of kale with spine included
5 stalks of celery
5 leafs of romaine lettuce
1 to 2 leafs of mustard greens
1 medium-sized beet with its greens (top)
3 carrots
1 whole lemon sliced in half for juicing
1 to 2 cloves of garlic
¼ size of fresh ginger

Wash the vegetables and lemon, but do not peel any of them as the skin and peels of vegetables and fruit is loaded with nutrients. If you need to sweeten the juice, add 1 to 2 packets of stevia (no other sweetener allowed or you compromise the integrity and nutrient value of the juice).
Makes approximately one 16 ounce serving, which I enjoy and recommend or two 8 ounce servings.
Sheree Clark is a holistic nutrition counselor. An inspiring author, motivator and raw vegan chef, Sheree has written and presented a variety of healthy lifestyle topics. Here are two of her favorite fresh vegetable juice recipes and a fruit juice recipe, too.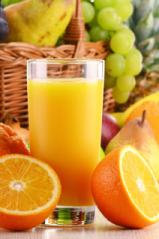 Orange Creamsicle Juice
This tastes just like that orange drink you get at the shopping mall (Orange Julius).
4 to 5 medium-sized oranges, peeled
2 to 3 medium-sized pears
1 medium-sized yam

Directions
Juice all ingredients in juicer. Stir well and serve immediately. Yields 1 to 2 servings.
Tomato Martini (non-alcoholic) Not just for the designated driver, this is a yummy "mocktail."
10 pounds fresh tomatoes, coarsely chopped
Put tomatoes in a strainer over large bowl to catch liquid (place a sterile cutting board over tomatoes to weigh them down and facilitate process). Season with salt and white pepper. Garnish with extra virgin olive oil or fresh avocado oil drizzle and finish with fresh basil sprig. Serve in chilled martini glass. Yields 4 servings.
Watermelon Lemonade So refreshing and re-hydrating!
4 cups of watermelon, chopped
2 whole lemons, juiced
Agave nectar to taste

Blend watermelon and lemon juice in a blender. Add agave as needed and serve immediately. Yields 2 servings.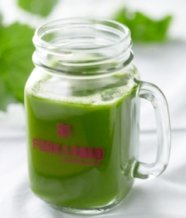 Green Lemonade
A standby drink and about the most nutritious thing you can have for breakfast. Substitute or swap out greens according to your own tastes. Try asparagus, celery, zucchini and so on...
Ingredients
1 bunch of kale
1 bunch of romaine lettuce
1 medium-sized cucumber
1 whole lemon
2 to 3 medium-sized apples

Juice all of the ingredients together in juicer. Stir well and serve. Yields 1 to 2 servings.
Other Juicy Pages...
Kitchen Appliances I really LOVE!

---
Go from Fresh Vegetable Juice Recipes Part 3 to HOME of Raw Food Diet Magazine