Raw Energy Bar Recipe

This is my favorite raw energy bar recipe!  I love energy bars to grab for a quick, healthy snack especially when I am running out the door to head out on a hike or a meeting. 

I always want a raw energy bar with a little extra protein so I will have fuel to take me a long ways.  Here is a delicious recipe that I think you will like. Because it is raw, it can get soft, so be sure and protect them in your purse or your backpack.  I make a batch and then freeze them wrapped individually for a snack to go anytime.

Home Made Energy Bars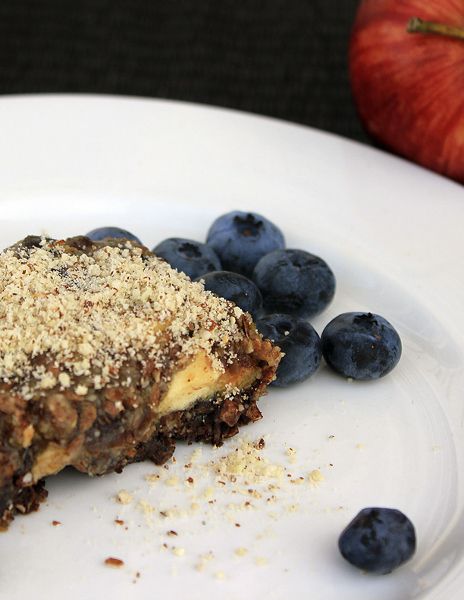 Energy Bar Recipe

Crust Ingredients:
1/4 cup raw carob powder
1/4 cup raw cacao powder
1 cup shredded coconut
1/2 cup coconut oil softened
Bar Ingredients:
1 1/2 cup almonds soaked, drained and dried (either dehydrated or just air dried) 
1/2 cup ground flax seed
1/2 cup honey or agave syrup
1/4 -1/2 cup fresh orange juice
1/2 tsp sea salt
15 dates, pitted
1 cup dried fruit (raisins, cherries, blueberries, peaches, apricots)
1 tsp orange, lemon or lime zest
1 tsp cinnamon
1/4 cup raw sprouted grain protein powder

Directions:

In a bowl, thoroughly mix all of the crust ingredients using your hands to knead the "dough." The crust will really harden up so consider lining the bottom of the pan with parchment paper; or oil the pan with some coconut oil. Then press the dough crust evenly on the bottom of a rectangular baking pan.

Using a high speed blender or coffee grinder, grind the almonds into a powder. Set aside.

Using the "S" blade of the food processor, process the dried fruit and dates until finely chopped. Add the rest of the ingredients, including the ground almonds, to the food processor and process until all ingredients are thoroughly mixed. Spread this mixture on top of the crust. Refrigerate for a few hours until firm and then cut into bars.

Increase the raw sprouted grain protein powder to your taste.  You can add more orange juice or honey if your dough becomes too dry.
I individually wrap the bars and then put into a freezer bag to freeze.  This makes them a simple grab-n-go snack.

Best Energy Bars

The very best energy bars are those made with no added preservatives or, well, the icky stuff we try to avoid.  Check and double check labels, and if you can, whip up your own! The best energy bar is one made with raw, fresh ingredients.

---
For Other Recipes You May Like:

---
Return to Easy Raw Food Recipes Page from Energy Bar Recipe Page