Wanted: Clean, Safe, Healthy Drinking Water
The search for clean, safe, healthy drinking water is on! Find some answers on the best water to drink here.
As part of your raw diet you use plenty of water. Water is used to make nut milks, soups, sprouting seeds and soaking nuts. Yes, some water is still used for drinking, too! No matter how you use your water, the water you are using for your raw food cooking is getting into your food and therefore, into your body.
It is to your best health benefit that you use only clean, safe, healthy drinking water. If you are concerned enough about your health and your diet and seek to eat raw, then the purity of your water should also be a concern. Check out the debate of Bottled Water Vs. Tap Water. The best water to drink may not be bottled water and most likely, it is not tap water. The most logical recourse is to filter your own water. Filtering your own water is the way to get clean, safe, healthy drinking water.
A water filter will effectively remove both the poisons and contaminants found in tap water that treatment facilities do not remove. Making the investment of a home water filtration system is an investment to your wellness. It is also the perfect compliment to you raw foods lifestyle. However, searching for the perfect filter for you to obtain clean, safe, healthy drinking water can be a formidable task.
Water Filtering Methods
To make your search a bit easier, realize that there are only about three basic water filtering methods. Each method has its pros and cons, which are summarized below. Choosing a water filter that uses a combination of these methods will give you the cleanest and safest water. The most common contaminate that people want to avoid is chlorine. All of the methods are effective chlorine water filters.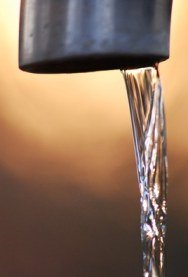 Activated Charcoal Water Filters
This type of water filter uses carbon that has been processed to make it very absorbent — activated charcoal. Filters are made of activated charcoal and as the water is passed through these filters, the activated charcoal effectively attracts and traps large amounts of poisonous gases and other impurities while allowing the clean water to flow through.
Pros – These types of filters are good in removing organic pollutants and dissolved pesticides; improves the taste of the water. Very effective chlorine water filters.
Cons – Cannot remove bacteria, microbial cysts, fluoride, sodium or nitrates. Sometimes bacteria can grow on the surface of the charcoal itself.

Activated charcoal filters are best paired with another type of filtration system for the most efficiency. Here are two methods that compliment activated charcoal filters very well:

Distillation Method – This method heats water to a boiling point then collects the cooled steam. Distilled water is simply cooled steam and is the purest form of water available. The very pureness of distilled water raises the valid question: Should people drink distilled water?
Pros: Relatively inexpensive. Distilling removes microbial cysts, organic and inorganic wastes and heavy metals.
Cons: Cannot remove certain pesticides or volatile solvents; these are carried into the collected water. Distilling is not energy efficient.
Reverse Osmosis Water Filtration – Also known as "RO," is an effective type of water filtration system and may be the most popular. In this types of filtration, the water is forcibly pushed through an ultra-fine, semi-permeable membrane leaving behind solids. The most efficient RO filtration is often paired with an activated charcoal filter to absorb the substances that get through the membrane.
Pros – This type of water filtration system is very effective and removes nitrates, sulfates, sodium, sediment, rust and other dissolved solids. RO may reduce the level of soluble organic compounds such as pesticides, chloroform, microbial cysts, sediments and dissolved organic compounds. It may also reduce the amount of pesticides, pharmaceutical wastes and chlorine.
Cons – Some dissolved substances can still get through the semi-permeable membrane.

My Fave Water Filter System...

Berkey Water Filters are a possibly the most efficient water filtration system. These water filters effectively filters out fluoride as well as many other contaminants. As an added major plus, they use only natural gravity, not electricity. so you are getting clean safe healthy drinking water the very purest way that is good for your whole family and does not rely on expensive electricity.
You may also enjoy these related pure water articles:
Should People Drink Distilled Water?

Go from Clean Safe Healthy Drinking Water to HOME of Raw Food Diet Magazine