Black Rice Recipe
This is an outstanding black rice recipe bursting with fresh flavors and varying textures, and has a gorgeous presentation.

Black rice is sometimes called forbidden rice, or purple rice.
In China, it was considered the finest grain and only emperors were allowed to eat it, therefore the name forbidden rice.  Black rice has a number of different varieties, some are glutenous and some are not.  Varieties include Thai jasmine black rice or Indonesian black rice.
Black rice is dark black in color and usually turns a very dark purple when cooked. 

Black rice has a mild, nutty taste and is a wonderful accompaniment to a raw food diet.  It is a highly nutritious rice and has 18 amino acids, iron, copper, zinc, vitamins, and fiber.  It contains a high amount of anthocyanin giving it the deep purple color.  Anthocyanins protect us from inflammation and cancer.
You can purchase black rice at most grocery stores, natural health food stores, and online.

Black Rice Recipe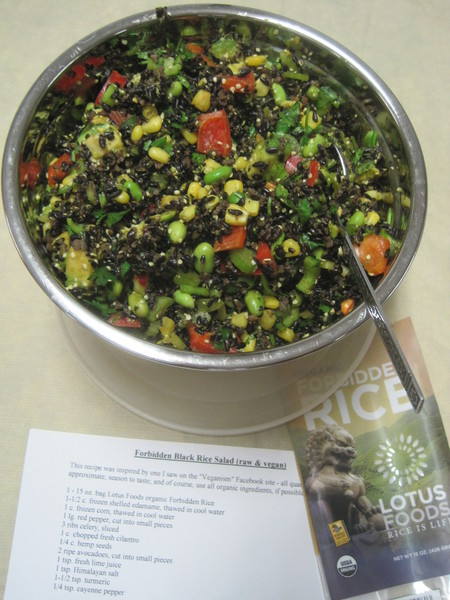 1 15 ounce bag organic black or forbidden rice
1 1/2 cups frozen shelled edamame, thawed in cool water
1 cup frozen corn
1 large red pepper, chopped
2 ribs celery, sliced
1 cup chopped cilantro
1/4 cup hemp seeds
2 ripe avocados, chopped
1 mango, chopped
2 tsp red onion, thinly sliced
2 tsp fresh lime juice
1 tsp Himalayan salt
1 1/2 tsp turmeric
1/4 tsp cayenne pepper

Place rice in large ceramic bowl with a lid.  Add water to 1-2" above the level of the rice.  Soak rice in cool water for 12-24 hours, stirring occasionally and adding water as needed to allow rice to expand to desired amount of softness.   Rinse rice and drain well in fine mesh colander or strainer. 
Place rice in large mixing bowl and add all other indredients.  Serve at room temperature to fully appreciate the mingling of the flavors. 
Refrigerate any leftovers, but allow to sit at room temperature for an hour or more when serving again.
My friend Dee brought this amazing salad to our recent veg potluck.  She found the recipe on veganism facebook page.  I just had to make it and share it so you can make this fabulous dish too. 

---
Other Recipe Pages You May Like:

---
Return to Raw Food Recipes page from Black Rice Recipe page