Best Blenders for Smoothies and More

Looking for the best blenders for smoothies and more?

Blenders, blenders in the mall, which one is the best blender of them all?
This is a question that anyone shopping for a blender to make smoothies may legitimately ask. It is said that a blender is the least used piece of kitchen equipment.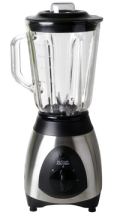 Raw foodists, or at least those of us who are really into smoothies, have a serious need for an excellent blender— not just any blender. Sometimes I feel like the blender queen.
When I drink a smoothie, I want it to be SMOOTH, no pieces.   I want a blender that will puree my masterpeice into a silky smooth liquid. With this in mind, let me share with you some information about blenders that were total failures.
Now when you are around raw food folks, blenders are a serious subject, not to mention expensive, too. The two blender loves of raw food (and green smoothie) people are the Vita Mix and BlendTec brand blenders. My husband got me a Vita Mix fifteen years ago, and I wasn't too happy about how much mnoey he spent.  However, very quickly I fell in love with it! It has been and still is the most important kitchen appliance I own! 
I make my green smoothie every morning, as well as use it for any other blender functions and it is still a roaring little engine of power! Their power is measured not in watts but in horsepower. The bottom comes off for easy cleaning and there is a minimum of buttons. The benefits continue: They work similar to a food processor because if you want to make nut powder or oat flour or any such thing, just throw the ingredients into your high powered-heavy duty blender and it will powder hard nuts and grains without any water. I could only dream of that with my other blenders, which could not even crush ice!
However, with all of the pros, there is, of course, the huge drawback: they are pricy. A refurbished VitaMix will cost you around $350. They are approximately $450 new.
I have a girlfriend, Mary Jane, who swears by the Omni blender.
This blender comes with a 3 HP motor (compare to VitaMix's 2 HP) and a whopping 7-year warranty, all for $250.  The features of the Omni blender is so similar to the VitaMix, but at $100 less is more affordable.
I personally have not tried the Omni Blender since I am happily attached and in love with my Vita Mix...but it may be an less expensive option worth researching.
Finished with Blenders for Smoothies? Here are some other pages you may enjoy:


---
Go from Blenders for Smoothies to HOME of Raw Food Diet Magazine