Asparagus Salad

Hungry for superfood health benefits? Try this raw asparagus salad recipe to add to your raw diet. 

Asparagus Salad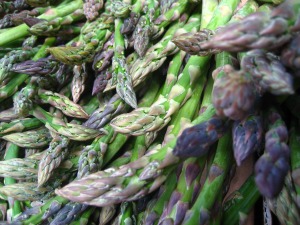 The few calories (only 15 per ½ cup raw) makes this a virtually calorie-free food packed with a nutritional punch. The unusual properties of  nutrition make asparagus one of the most perfect foods available.
Only 6 spears of contain a whopping 135 micrograms of folic acid, which is half of the Recommended Daily Allowance for this mineral. These same 6 spears also are high in fiber, potassium, calcium, folate and vitamins A, C and K. It also contains, in a lesser amount, some B vitamins and vitamin E.
When buying, choose straight, smooth stalks with tight tips. The best asparagus is of medium thickness. Although thick stalks may be attractive, they may be older and tougher. The very skinny stalks may also be tough. For adding to salads, use only the tips and a few inches below as this is the most tender part of the asparagus plant. Serve tender spears about 4 to 5 inches from the top down with a dip of your choice.
Fresh Asparagus Salad

Ingredients:

1 pound of raw spears
Mixed organic greens enough for four servings
1 cup of seedless grapes halved
½ cup of raw sunflower seeds
Dressing:  Honey Mustard or Balsamic dressing

Directions:
Mix all dressing ingredients together in a blender. Chill in the refrigerator for at least an hour.
Trim the asparagus using only the tips and the tender part of the stems. Use the tough part of the stem for the next recipe. Divide the greens into 4 serving plates. Top each of the greens with ¼ of the grapes and ¼ of the sunflower seeds.  Drizzle with a Honey Mustard or a Balsamic dressing.  

Finding ways to use this super food especially in season, will give your body a boost of nutrition that is craves. 

Other Recipes you May Like:
---
Return to Raw Food Recipes Page from Asparagus Salad page

Return to Asparagus Health Benefits page from Asparagus Salad page