Banana Cream Pie

Oh my, raw banana cream pie.  It is vegan, raw and utterly devine.

 A wonderfully indulgent dessert that is what? HEALTHY for you!  Even your non-vegan, non-raw foodie friends will love this.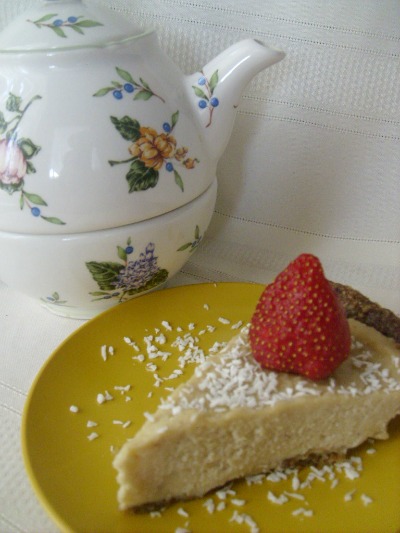 Crust Ingredients:

¼ cup dates pitted and soaked for at least 30 minutes or overnight, then drained
1 tbsp coconut oil
1 tsp cinnamon
¼ cup pecans soaked a few hours then drained
¼ cup unsweetened shredded coconut

Pie filling Ingredients:
1 cup of cashews, soaked 4 hours
1 cup of pure water
a dash of sea salt
½ teaspoon of raw honey
2 ripe bananas
Directions:
For the crust, drain the nuts and seeds.  Process all of the crust ingredients together in a food processor until smooth. Press into an 8 inch pie plate and refrigerate while making the filling.
Discard the soak water from the cashews. Using a food processor or blender, process the water, cashews, salt and honey until creamy. Slice the bananas and place them in the prepared crust. Pour the cashew "pudding" on top. Garnish with a sprinkle of cinnamon, carob, fresh orange slices, fresh banana slices or even edible flowers.
Cover and refrigerate until ready to serve.  This is such a creamy and delightful pie to share with a friend. 

This recipe and many others are in my new book, Guide to Raw Superfoods, which is coming out soon in paperback!  Available in ebook and Kindle formats.  For more information on this informative recipe book, you can go to this page!
---
More Raw Food pages You May Like:

---
Return to Raw Food Dessert Recipes page from Banana Cream Pie Recipe page