Celery Cilantro Soup
This celery cilantro soup is a big hit everywhere I have taken it. I always get requests for the recipe! If you want to make it creamier, simply add more celery stalks and a little more almond butter or olive oil.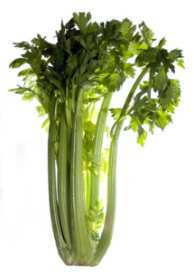 This recipe has been kindly contributed by Susan Schenck, the author of the two-time, award winning book The Live Food Factor, The Comprehensive Guide to the Ultimate Diet for Body, Mind, Spirit & Planet. Her book has gained the reputation as the raw food encyclopedia or bible.
Ingredients:
1 bunch of celery (about 8 stalks)
1 bunch of cilantro
1 bunch of fresh dill
¼ to ½ cup of unpasteurized olive oil (or substitute ½ cup water and ½ cup nut or seed butter for greater hygienic purity)
½ cup of raw almond butter or raw tahini
3 cloves of garlic
2 to 4 tablespoons of unpasteurized miso (optional — substitute dulse)
2 tablespoons of nama shoyu (optional — substitute dulse)
¼ cup of lemon juice (if not available, raw apple cider vinegar)
8 cups of water

Directions:
Blend in a Blend-Tec or Vita-Mix, adding a little of the ingredients at a time until creamy. Serves about 10.
Kitchen Appliances I really LOVE!

Return to Raw Food Recipes page from Celery Cilantro Soup page