Strawberry Banana Cheesecake with Fruit Coulis

This creamy Strawberry Banana Cheesecake with Fruit Coulis will impress your friends, even the non-raw foodists!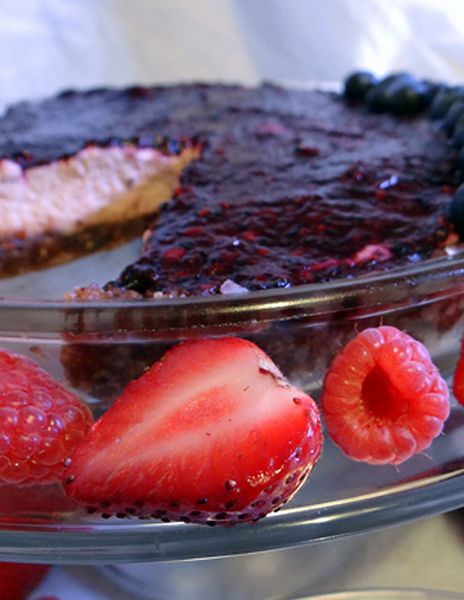 I made this recipe and took it to the Vegetarian Society Potluck and it disappeared immediately.  It was a smash hit!
This recipe was contributed for this page on raw foods dessert recipes by Natalie Watson from Texas. She says, "I found two different Raw Cheesecake recipes online. I made both individually and then combined the recipes to make what I think is the Best Raw Cheesecake - YUMMY!!!!" Read more about Natalie on the Raw Chefs page.

Crust Ingredients:
1c raw macadamia nuts
½ c raw walnuts
1 1/3 c dates
3 - 4 T cocoa
1 tsp vanilla
Pinch of sea salt
Unsweetened coconut

Filling Ingredients:
3c raw cashews (soaked overnight)
2 medium sized lemons juiced
½ fresh banana
5 fresh strawberries
3T Agave or raw honey
¾ cup Coconut oil
2T vanilla

Fruit Coulis Ingredients:
2c frozen mixed berries
1/2c dates
Fresh strawberries and blueberries for decoration


Directions:
Combine macadamia nuts, walnuts and dates in food processor. (Don't add coconut!!!) Begin to process. Add vanilla, salt and cocoa. Process well. You do not want any large chunks of ingredients.

Get cheesecake pan and sprinkle coconut in the bottom. This will help make it easier to remove from the pan when serving. Press the crust into the bottom of the pan and this will form the crust.

Throw all filling ingredients into high-speed blender. Blend until nice and smooth.

Place the filling onto the top of the crust and put in freezer until desired consistency.

Just before serving, blend your frozen mixed berries and dates.

Plate each cheesecake slice with topping and fresh strawberries and blueberries.

***Defrost the cheesecake about an hour or two before eating***

Enjoy!
---
This recipe and many others are in my new book, Guide to Raw Superfoods, which is coming out soon in paperback!  Available in ebook and Kindle formats.  For more information on this informative recipe book, you can go to this page!
Return to Raw Foods Dessert page from Strawberry Banana Cheesecake page