Peachy Cobbler with Walnut Cream

This Peachy Cobbler with Walnut Cream Recipe will be one that you know will satisfy everyone's cobbler craving!

This recipe was contributed by Jen (Valencia, CA).  Read more about Jen's story of raw on the Raw Chefs page.

Ingredients:

2 cups walnuts (unsoaked)
1/2 cup dates (pitted)
1/2 cup raisins

Directions:


Blend ingredients in food processor with "S" blade until crumbly.
Remove 3/4 cup and set aside for crumble later for topping.
Use a 8 by 8 glass pan. Pack the remaining crumble into the pan as a crust.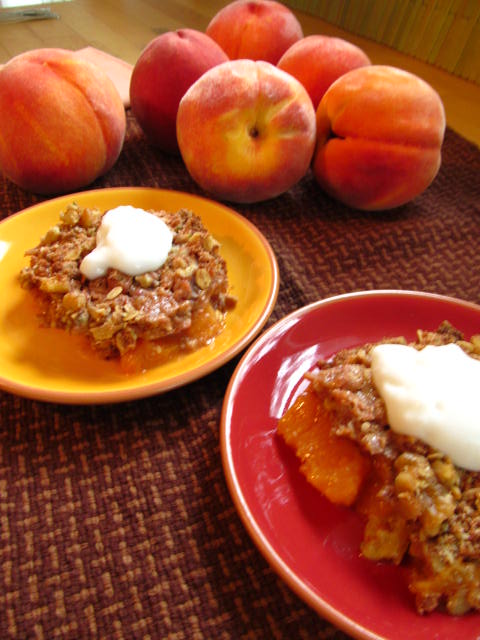 Filling Ingredients:
6 peaches sliced
1/2 teaspoon cinnamon
pinch of nutmeg
1 teaspoon lemon rind (grated)
1/2 cup raisins
1 Tablespoon Psyllium powder

Place 1/2 the sliced peaches on top of the crust.

Blend the rest of the peaches with cinnamon, raisins, nutmeg, lemon rind and psyllium until completely blended in food processor.

Pour over crust and sliced peaches then use the remaining crumble as the topping and serve.

This is a great treat for summer!
Return to Raw Foods Dessert page from Peachy Passion Cobbler page