How to Dehydrate Vegetables for Living Snacks

Knowing how to dehydrate vegetables is very similar to knowing how to dehydrate fruit. It is easy, quick and a valuable tool to stocking your pantry.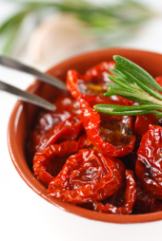 Knowing how to dehydrate vegetables is very similar to knowing how to dehydrate fruit. Your dehydrated vegetables will expand your living food options and will save you money (Just think how expensive dried tomatoes are!). When tomatoes are in season, dry them yourself. Dried vegetables for the raw foodist will not be reconstituted in traditional cooking methods. However, dried vegetables do make good vegetable chips, are a welcome addition to salads and are a nutritious topping for cold soups. Dried until brittle, the dried vegetables can be crumbled to a powder, and their flavor and nutrients can be added to veggie burgers, smoothies and other main raw dishes.
If you have the privilege of growing or buying large amounts of produce and you have a dehydrator, buy in bulk and learn how to dehydrate vegetables! This particular web page is focused on living, enzyme-preserved vegetables. This method is recommended for many vegetables where pretreatment such as steam blanching is preferred. Since this is contraindicated for the raw foodist, simply dehydrate your vegetables.
Here is how to dehydrated vegetables using a food dehydrator. I would suggest  in a high-powered dehydrator such as the Excalibur dehydrator.
I have tried several of the inexpensive brands and been disappointed.

Tips for How to Dry Vegetables in Your Food Dehydrator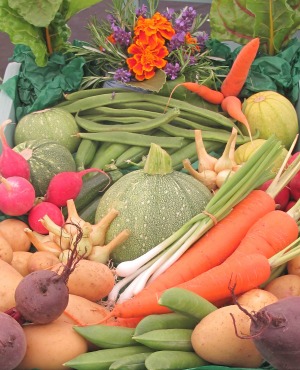 Always start with vegetables at the peak of freshness. If possible, pick and dry them the same day. If you cannot dry them them the same day they were picked, then store them in your refrigerator— to preserve their freshness.
Wash the vegetables in cold water and trim away any bruised, moldy or decayed spots; peeling is optional. However, the vegetable's skin will toughen as it dries.
Slice the vegetables uniformly and thinly. You may want to use a food processor or a mandolin to help you sliced quickly and uniformly. Vegetables, like green beans, can be sliced French style, lengthwise. As with any dried product, the thicker the vegetable, the longer it will take to dehydrate.
Always arrange vegetables on the mesh dehydrator sheets in a single layer.
You can dry different vegetables together as long as you do not have strong smelling vegetables such as bell peppers, onions or Brussels sprouts.
The temperature for how to dehydrate vegetables is lower than of that for fruits. Set your dehydrator at about 115º F until your vegetables are at the desired dryness. The only exception to this are the vegetables with more moisture content such as onions and tomatoes. When dehydrating onions or tomatoes, use the two-temperature drying method, setting your dehydrator first at 145º F for the first two hours before lowering it to 105º F until they have reached the proper dryness.
Drying times differ on the vegetables, the way they are cut, the humidity in the air, the types of vegetables, etc. You want your dried vegetables to have the texture that is somewhat leathery or brittle.
Cool the vegetables in the dehydrator for at least 30 minutes, but not more than an hour before removing and storing. Leaving the dried product in the dehydrator for too long will have the vegetables absorbing moisture from the air.
Knowing how to dehydrate vegetables is an art, and fortunately, it has a very small learning curve! You will learn how to dehydrate vegetables as you experiment. Enjoy the journey!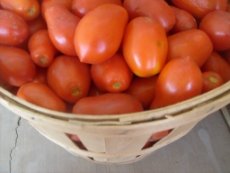 Kale Chips

I first fell in love with kale chips in my cooked food days. Using the dehydrator, they are still delicious, and green and lacy. They are quite attractive, not to mention raw and live. Follow the link to my recipe for Kale Chips.
Raw Potato Chips

A discussion on how to dehydrate vegetables would not be complete unless there was at least a passing mention to potato chips.
As an alternative to the cooked-in-oil variety, use your dehydrator to make raw, living potato chips. The result is a heavier, denser chip. You are simply taking raw potatoes and drying them, but these chips have all of the wonderful nutrients of the potato!
Here is how to do it...
Slice potatoes paper thin using a julienne peeler or spiral vegetable slicer. Sprinkle with salt, pepper, apple cider vinegar, paprika, or any type of seasoning to create your favorite flavor of chip. Keep in mind that dehydrating will concentrate the flavors, so sprinkle lightly until you know how you like the finished product. Dehydrate on mesh sheets at 145º F for the first two hours then reduce the setting to 105º F and dry until completely crisp.
But don't stop with just potatoes! Try drying other root vegetables such as parsnips, red beets, carrots, sweet potatoes, and even try such things as string beans. Enjoy!

Now that you know how to dehydrate vegetables, here are some other pages you may find helpful.
---
Go From How to Dehydrate Vegetables to HOME of Raw Food Diet Magazine