The Best Food Dehydrator?

What is the best food dehydrator? My own personal opinion and dehydrator review.
When I chose to add in more raw foods I found some recipes that said a dehydrator would be required.  My next door neighbor had one in her garage and offered for me to use it.  That was a great option as I could determine if I liked her brand and if I would use a dehydrator very much. 

The question of using a dehydrator in a raw food diet is totally up to the individual.  I would greatly suggest that you research them and determine how much you plan to use one.  For me, I found that I used it a lot in the apricot, peach, cherry, and tomato season.  I kept the dehydrator running day and night as I made my trays of dry goods.  I love making fruit leather and flax crackers too.  
You wont need a dehydrator for many raw recipes. There are some raw foodists who are 100% raw, eat all fresh food and do not own a dehydrator.

The raw foodists who use a dehydrator may not own just one, but two or more, and use them often. They cannot imagine a raw food diet without one. The choice of using a dehydrator — or not — in your raw food diet is a personal decision. If you decide that dried food is a large and important part of your raw diet then you'll want the best food dehydrator for you and your raw food needs.
Now before you start your search for the best dehydrator on the market, consider the many uses of a dehydrator in the raw food diet.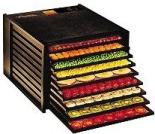 From Simple to Gourmet – Raw Food Uses for Dehydrators

The role of a dehydrator in a raw food diet effectively replaces a few conventional cooking appliances. The gentle drying temperature preserves the live enzymes of the food. Instead of using a conventional oven, stove or a microwave, a single dehydrator does it all for the raw foodist. It is no surprise then that the search for the best food dehydrator is necessary.
A food dehydrator offers much to the raw foodist when they know how to use it. The easiest way to utilize a food dehydrator in your raw food diet is to dry fresh fruits and vegetables for later use.
Drying fresh produce is a great way to use a food dehydrator when produce is in abundance. The process of drying food may take anywhere from a few hours to a few days. A food dehydrator is excellent for drying your own mushrooms, raisins, kale chips, dried apples, peaches, pears, herbs, spices, dried nuts and seeds.
The more advanced raw foodists use their food dehydrators to make more complex and interesting foods such as raw crackers, raw pizza crusts, raw wraps, raw bagels, raw pancakes, raw fruit jellies, raw veggie burgers and more.
When I get in the mood, I get my dehydrator out and make pizzas, veggie burgers, crackers, desserts, along with drying produce. 

Best Food Dehydrator Checklist

Here are some things you may want to consider when you are in the market for a food dehydrator:
Removable trays – The option to remove trays from the dehydrator will help you to clean your machine and accommodate bulky foods. If you have the option to remove the trays look for this option.
Large drying space –– You'll never know when you'll want to fill up your dehydrator and then look for even more drying space. In my opinion, having more space than what you think you will need may turn out to be very handy. The best food dehydrators, in my opinion, will not only have a large drying area, but also the ability to easily accommodate several types of food all at the same time.
Accurate temperature settings – Forget low, medium or high temperature settings. If you are serious about raw and living food, then look for a dehydrator with a specific temperature gauge. Since raw food by definition is not to be heated over 115° Fahrenheit, an accurate temperature setting is necessary.

Fan Forced Air – With a large dehydrator, look for the type with a fan. The moving air will help to distribute the warm air and dry your foods evenly.
After using a few dehydrators that did not do the job properly, I understand why raw foodists use the Excalibur dehydrator. It meets all of the above criteria and does the job in an efficient manner.
If you plan to do a lot of dehydrating, get a good dehydrator as it will save you time and money in the long run. 
Here are some more pages on dehydrating that you may be interested in:
---
Go from Best Food Dehydrator to HOME of Raw Food Diet Magazine