Homemade Egg Nog Is a Wonderful
Treat All Year Long
Homemade Egg Nog without the raw eggs.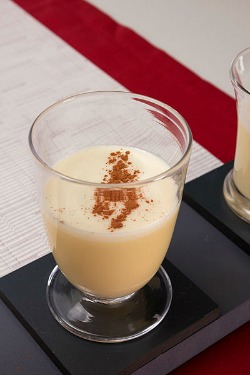 Homemade Egg Nog
Who did not enjoy a glass or two of egg nog around the holidays?  When the season was over, the egg nog went off the shelf too.  What I found were recipes that called for raw eggs and cream.  So I experimented with some vegan options and was able to whip up a nice egg nog recipe. 

My Homemade (Non) Egg Nog Recipe

Ingredients:
1 ½ cup coconut milk or other nut milk
1 teaspoon vanilla extract
¼ teaspoon cinnamon
¼ teaspoon nutmeg
1 teaspoon ground flax seed or chia seeds
1 tablespoon raw cane sugar OR raw agave or maple syrup
Directions:
-Place the ingredients into the blender and whip it up.
Now you can enjoy this delightful drink anytime of year.  You can even add a little rum to this drink to add the alcohol taste if you choose.  It is just a sweet treat that I can whip up anytime and it gives me that holiday, ahhh, relax and chill out for a moment.
Egg Replacers

Just a side note about raw eggs.  I know it use to be done in the days when people had their own chicks, but it is not recommended these days with the high incidence of salmonella which is a bacteria found in uncooked eggs.  Factory egg farms have found raw eggs to have this bacteria in a high number of the eggs tested, so it is not recommended to consume eggs raw. 
Since I stopped consuming eggs years ago, I have found a number of simple ways to replace eggs.  Here are a few examples:
Ener-G Egg Replacer is one product I keep on hand to replace eggs
1 small banana for 1 egg (great for cakes, pancakes, etc)
2 Tbsp cornstarch or arrowroot start for 1 egg
1 Tbsp ground up flax seeds mixed with 3 Tbsp water for blended recipes for thickening.
1 Tbsp of chia seeds with 3 Tbsp of water for thickening
1/4 cup tofu for 1 egg (blend tofu with a Tbsp of water until smooth)
I never missed eggs once I learned these simple tips for raw foods and they work well for baking too.  So keep this list on hand so you will have options for those recipes that call for eggs and go the alternative route with these suggestions. 
More Raw Non Dairy Pages:
How to Make Kefir

Raw Ice Cream

Health Benefits of Kefir

How Is Yogurt Made?

Homemade Egg Nog

Go from Homemade Egg Nog to Raw Living Food Recipes Page