Eating a Raw Food Diet is Not Hard
Eating a raw food diet, sometimes known simply as "going raw," is a discovery in eating nourishing, enzyme-rich, power-packed foods.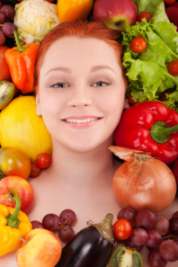 Eating raw foods may mean something different for every one. Some people want to eat raw only once a week while others will eat raw exclusively; the choice is totally up to you!  Whatever you choose, simply adding in more raw foods to  your diet is going to amp up your nutrition and the health benefits of your diet. 
Food IS medicine! 
We have lost sight that eating is not just about stopping our hunger with something that tastes good.  It is about giving our bodies what it craves to be healthy and to work at its best. A lot of what we eat in today's processed food world does NOT make us healthy.  There are some things to consider with a raw diet.
What is Raw Food?
Raw food is natural, unprocessed, preferably organic and non-genetically modified (non GMOs) food that has not been heated above 118° F (46°C). Foods using low or no heat ensures that the all important enzymes and other nutrients are preserved. Cooking foods destroys a lot of these imperative enzymes critical to the absorption of the nutrients you eat. When you eat cooked foods, you are eating foods regardless of whethjer they are healthy foods or not, that now have had alot or all of the enzymes imperative to digestion cooked out of them. Most of us have bodies craving for nutrition.  Here is a list of raw foods.
Going Raw
Eating a raw food diet may not necessarily mean eating only uncooked foods forever... or it just may. Most people who do eat raw food actually make the majority, but not necessarily all, of their foods raw. In fact, most raw 'foodies' will describe themselves and their food choices in percentages such as 50% raw to 99.9% and any percentage in between. If you decide to go raw and are really craving a favorite cooked food, it is OK to indulge. Eventually, you will find yourself actually craving the raw recipes that you have started to enjoy. 
Today, for example, I realized that I had, once again, delayed the trip to the grocery store and couldn't make my morning juice. I resorted to a very nutritious sprouted grain cinnamon bread with raw almond butter and honey. YUM. But a half an hour later I still was CRAVING my raw juice. I have noticed that once you have started eating raw foods, you will have a preference for raw when making  your food choices. It is your body requesting what it needs.

New raw food dishes can gradually replace your conventionally cooked meals as you make a concentrated effort to go raw. Allow yourself to experiment to discover what you like and what you don't like. At first, preparing raw meals may seem daunting, confusing and time consuming. The more that you experiment with preparing raw foods the easier the entire process will become. Eventually, preparing raw recipes will be second nature to you.
Going Raw Is Different to Different People
For some, eating a raw foods diet may be limiting themselves to raw fruit, vegetables and grass juices. Others, perhaps the majority of raw food proponents, are vegans who exclude all types of animal products like raw dairy and raw eggs. Raw vegetarians include raw dairy and eggs to their diet. The most liberal of those who eat raw include raw seafood and even meat. No matter what course of eating plan you may follow with a raw foods diet plan, the result is that you will be eating more nutrient-rich foods, a majority of which is fruits and vegetables.
The Most Common Reason for Eating a Raw Food Diet
Now while there are many reasons for eating a raw food diet it seems that one main reason stands above the rest. This simple reason is: raw food for better health.
Many, if not all, who choose some type of raw food diet is doing it for health related reasons. These reasons may include recovery from a serious illness, weight loss, better athletic performance, longevity, or many other reasons. Enjoying a majority of raw foods, in my own personal opinion, is a wonderful option to eating healthy.

More Information About Eating Raw Foods:
---
Go from Eating a Raw Food Diet to HOME of Raw Food Diet Magazine