Kale Salad
Another way to enjoy the superfood kale nutrients, is to make a delicious kale salad.
There is a simple trick to eating kale raw that turns it from tough to tender and appetizing.  The trick to tenderize the tough leaves is to first cut off the tough stems and the veins of the kale. (I save the veins to use in a juice and or put a few in my smoothies.   I also will chop the veins up into small bitesize pieces and put them in the freezer for a soup vegetable.)  Take the leaves and roll them into a bunch and chop, chop until you have small pieces.  
After the leaves are cut, use your hands to massage the leaves to further tenderize them. This will result in the leaves wilting and give it a cooked appearance. Adding the mixture of salt, olive oil and vinegar and letting the kale marinate in it will also "cook" the kale further.  You will now have tender, delicious leaves that has a great texture and flavor for your raw salad
Raw Kale Salad With Apples, Almonds and Mushrooms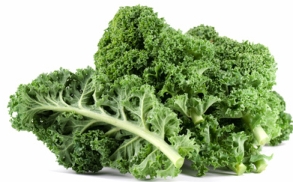 Yield: 2 large servings
Ingredients:
1/2 bunch of kale (I use the larger, tougher outer leaves and make chips out of the more tender inner leaves)
1 tablespoon of extra virgin olive oil
¼ teaspoon of sea salt
1 teaspoon of apple cider vinegar
1 apple cored, not peeled, chopped finely
5 fresh, raw, white mushrooms, sliced
½ cup of slivered raw almonds
1 green onion, finely chopped
1 Tablespoon of raw honey
Directions:
Chop the kale into thin ribbons as described above.  Drizzle with the vinegar and olive oil and then sprinkle with salt.
Thoroughly massage the leaves with your hands for several minutes.  Add the apple, mushrooms, almonds, onion and honey.  Marinate for about 10 minutes. Serve.
Kale is loaded with vitamins A, K, and C. It has minerals, fiber, phytonutrients, and omega-3's.  It is now being called the new "beef". Adding it to your diet through salads, smoothies, or other raw recipes is adding a great source of awesome nutrition!

Try Kale Chips as another way to use this great green leaf. 

Return to Benefits of Kale page from Kale Salad page