Chocolate Smoothie

A chocolate smoothie that is so nutritious, tastes great and is easy to make. This is one of those fun and healthy favorites that I go to when in need for something chocolately.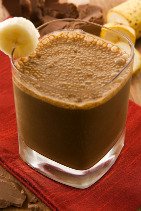 Who doesn't love a chocolaty treat? What we might not love is how most chocolate products are full of sugar and oils. That is why it is so important to choose high quality chocolate products such as raw cacao for the health benefits.
A homemade smoothie that uses fruit and natural sweeteners is a healthy alternative to sodas, junk food, or store-bought smoothies which have preservatives and sugars. And you won't feel the guilt when consuming something that tastes great and is a healthier choice.
I like to use raw carob powder with, or in place of, raw cacao to eliminate the stimulant of theobromine that is in cacao.  It does have a milder flavor so adjust to your preference.
When I began to experiment with different ingredients and recipes for smoothies, I found that by blending certain types of textures you can create a delicious smoothie with just a few healthy ingredients. Even the most finicky person will most likely enjoy this tasty drink.
Healthy Raw Chocolate Smoothie

2 frozen bananas (frozen bananas thicken the smoothie)

2 cups rice milk, almond milk or coconut milk
*3 medjool dates (make sure to remove the pit)and finely chopped
2 Tbsp. of organic

raw cacao powder*

optional: 1 tsp flax seeds or chia seeds for Omega's and as a thickener
*date substitutes: 1 - 2 Tbsp of honey, black strap molasses or agave

1 cup of ice
Place all ingredients in blender. Blend until smooth. Makes enough for 2 large glasses or 4 smaller cups.
This is one of my favorite treats that is so quick and easy to make. Enjoy this delicious chocolatey smoothie with all the wholesome nutrition and the added energy that cacao offers.  
Kitchen Appliances I really LOVE!

---
Return to Raw Cacao page from Chocolate Smoothie page