Celery Chowder

This celery chowder recipe gives you all of the benefits of celery as well as the benefits of carrots.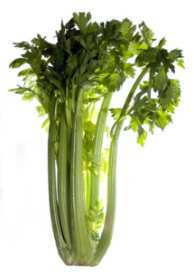 This recipe is taken from the Complete Book of Raw Food edited by Julie Rodwell.  by Rhonda Malkmus 

Ingredients:
4 stalks of celery
4 green onions
1 small zucchini
½ bell pepper
1 clove of garlic
1 cup of carrot juice
½ cup of celery juice
1 tablespoon of parsley
natural sea salt

Directions: Blend half of the celery, onion, zucchini and pepper with the garlic, carrot juice and celery juice. Add the remaining vegetables, minced parsley and salt to taste. Mix well and enjoy!
Benefits of Celery

The array of vitamins A, several of the B complex vitamins including vitamins B1, B2, B3, B5, B6, folate, vitamin C and vitamin K in celery are impressive as are aspects of celery nutrition.  The vitamins in celery are just a small part of the nutritional value of celery.
The nutritional value of celery includes essential minerals such as boron, calcium, chlorine, iron, magnesium, manganese, phosphorous, potassium, selenium, sodium, sulfur and zinc. Add to this array of minerals, celery also contains several amino acids and it is rich in health promoting fiber.
Juicing Carrots
Want all of the benefits of carrots but don't care to eat bunches of them? Carrots are great juiced. Not only do they taste good, (peel them first if you wish to avoid the "earthy flavor", otherwise keep the peelings on and enjoy even more nutrition from them) carrot juice seems to have wonderful properties to enhance health. Adding the juice of an apple will make for an even more delicious beverage.
Juicing the carrot releases not only the good juice but also breaks it down so that your cells can absorb more of the carrot nutrients.
In short, to improve or enhance your overall health, eat your carrots.
Kitchen Tools I really LOVE!

Return to Nutritional Value of Celery page from Celery Chowder page