Carrot Raisin Salad with Coconut Dressing

 A wonderful Carrot Raisin Salad Recipe...the combination of the crunchy carrots, chewy raisins and gorgeously sweet coconut dressing is superb!

This colorful salad is packed with nutrients not to mention delicious taste.
Ingredients:
3-4 medium carrots peeled and grated, use a food processor
¼ cup of raisins
2 Tablespoons of lime juice

Mix together and top with Coconut Dressing
Coconut Dressing:
2 Tablespoons of coconut butter
1 teaspoon of olive oil
1 Tablespoon raw honey or agave
1 teaspoon pure water
In a bowl combine all of the ingredients and mix until thoroughly blended. Combine with the carrot salad.
Some Benefits of Carrots

After reading about the goodness of carrots and trying this recipe, you will be seeking out more reasons to add carrots into your diet.
Anti-Aging – Eating carrots will make you LOOK good. Yes, not only will they help you to see good too! The antioxidant beta-carotene which carrots are rich in is a powerful antioxidant. Among other benefits, this antioxidant seems to be able to slow down the aging of the cells. The slower your cells age, the better you look and feel, in short, YOU age a lot slower than your non-carrot eating peers.
Heart Health - Along with the beta carotene, carrots also contain alpha-carotene and lutein. These also with the heart healthy fiber (a mere ½ cup of carrots contains 2 grams of fiber) helps to reduce cholesterol levels.
Stroke Prevention – A study by an ivy league medical school found that those who eat 6 or more carrots weekly were far less at risk for strokes than those who eat only a single carrot per month or less.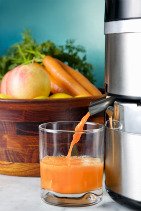 Want all of the benefits of carrots but don't care to eat bunches of them? Carrots are great juiced. Adding the juice of an apple will make for an even more delicious beverage.
Juicing the carrot releases not only the good juice but also breaks it down so that your cells can absorb more of the carrot nutrients.
In short, to improve or enhance your overall health, eat your carrots.
Return to the Health Benefits of Carrots page from Carrot Raisin Salad Recipe