Banana Bread Walnuts
Banana Bread Walnuts are the answer when you are craving warm, cinnamony, sweet, banana bread, yet you want to stay raw and healthy...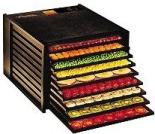 You simply mix, refrigerate and dehydrate and you will have a treat that is so good to eat.  Walnuts and bananas are very good for your brain and Bananas are loaded with potassium for great energy. 

I found this recipe on a raw foods forum and got permission to share it with you!

Ingredients:
2 Cups walnuts soaked in water for several hours
4 Cups bananas mashed
4 or 5 Tablespoons agave syrup OR maple syrup to taste
3 Tablespoons cinnamon
1 teaspoon ground nutmeg
pinch of salt
Make sure to add some love to making this snack and it will be even healthier for you and your loved ones! 

Directions:
Blend together the above ingredients and then mix in the walnuts.

Spread the thick mixture on a cookie tray, cover with another cookie tray and put in your refrigerator overnight to marinate.

Dehydrate at about 105 degrees Fahrenheit for about 8 to 9 hours.
I love recipes like this as they are so easy to make up a batch and let the dehydrator do the rest.  All you really have to do is a couple of steps and you have a delicious bread for a snack or dessert that is good for you. 

The best way to store these treats is to put them in a glass container and keep them in the refrigerator for up to a week.  These tasty treats are great with tea, a quick breakfast on the go, or pack in a lunch.  Anyway you have them, you will feel the goodness of a homemade snack that is made with love. 

---
Return to Raw Food Recipes page from Banana Bread Walnuts page