About Rhonda
My name is Rhonda and I share my story in hopes that it may encourage others to learn more about the benefits of eating raw foods.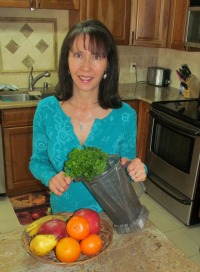 Years ago I felt run-down, exhausted and not feeling at all my best.  A girlfriend invited me to a raw food weekend to learn about raw foods.  I wasn't real enthusiastic about a weekend of eating raw foods, and was, frankly, quite concerned I would be hungry all weekend.  But, being the wonderful friend that she was I agreed to give this raw food weekend a try.
The weekend changed my life.  I was never hungry and I was amazed at all the wonderfully prepared, tasty foods. And the best part was that I came home feeling energized and invigorated!  I started reading more about raw foods and soon enrolled in a raw food course taught by David Wolfe to learn more about this delicious cuisine.

I start every morning with a green smoothie, and incorporate raw foods into every meal.  I have found my point of balance for me and that is what I encourage everyone to do. 
This site is for everyone, varying from the person wanting to just start adding raw foods to their diet, and for the avid raw foodist, and everyone in between.  How much raw foods you wish to have in your diet is up to you.  I'm just here to encourage everyone to add as much as they wish and reap the health benefits of adding raw foods into your life. 
Adding in raw foods to your diet is NOT a trend! People have been gravitating to a raw food diet for many years. We are discovering the many health benefits of eating raw, as live foods contain their enzymes where most cooked foods do not.  Raw foodist are using this diet for healing, energy, weight loss, and to just feel GOOD.

This site is for raw food lovers everywhere! I hope that it will give you ideas, recipes, and help you on your journey of raw foods.  It is the best gift we can give ourselves, foods that are in their natural state. 
Wherever you are today believe that you can achieve what you set your mind to. It all starts with awareness and education and most importantly, taking action. 
I will be sharing with you insights from my experiences in my journey towards raw foods. I hope you will join me in the quest for living a happier, healthier, and more satisfying life. Sharing and encouraging adding in raw foods is what Raw Food Diet Magazine is all about.
Live well, one apple at a time.

Rhonda