My Green Smoothie Recipe Raw Diet Results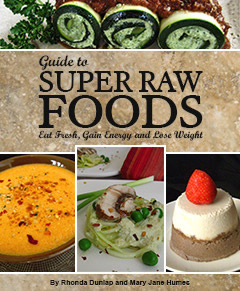 Order your SUPER RAW FOOD Recipe e-Book Here!
150 pages of our beautifully illustrated  (over 50 full color photographs)
raw recipe book

My first green smoothie recipe led me to another green smoothie, then to my raw diet and a thinner, healthier body.
Before I started my own personal raw diet I was big time into natural health supplements. Somewhere, I read that a common theme among healthy, thin women, was that they drank "green juice." This green juice was from green powder, which were concentrated greens ground up into powder and then added to smoothies, soups, etc.
So I got some organic green powder and my very first green smoothie was born. This was one of my first attempts at green smoothies:
1½ cup of raw milk
1 tablespoon of your choice of green powder
2 teaspoons of raw honey
1 banana

Place ingredients in a blender, blend until smooth then drink.
Green Smoothie Results
Drinking green smoothies made me feel satisfied. My clothes started to get bigger, while my stomach and butt started getting smaller. A side benefit of my green smoothie recipe diet was that I noticed my eyesight was improving.
When I was drinking green smoothies the cooked comfort foods such as macaroni and cheese, chips and candy that I previously loved and craved did not speak to me.
Basic Green Smoothie Recipe
Here are guidelines for a green smoothie recipe. Feel free to modify it any way you like depending on what is in your refrigerator.
Basically, a green smoothie consists of at least 40 percent green, fresh leafy vegetables. Some of these are wheat grass, lettuce, kale, spinach, watercress, endive, celery, chard, romaine, alfalfa (or any type of sprout), parsley, mint, beet greens, Brussels sprouts and collard greens. etc. The other 60 percent of the smoothie is fruit such as berries, citrus fruits, peaches, bananas, pears, and others.
Place the greens and fruit into your blender with about ½ cup of water, ice cubes, some raw sweeter if desired, a generous dash of cinnamon and blend until smooth.
Some green smoothie recipe tips from Executive Sous Chef Michel Girarot:
Green Smoothie Recipe from Best Selling
Health Author
Nancy Deville is an authority on "green juice". She is the author of the book Healthy, Sexy Happy: A Thrilling Journey to the Ultimate You! Here is her favorite green smoothie recipe:
Ingredients:
1 bunch celery
1 large bunch peppermint
1 bunch dill weed
1 bunch curly leaf parsley
1 bunch Italian parsley
1 bunch cilantro
3 medium cucumbers with skin and seeds

Directions:
Drain your veggies in a colander and then tear or chop them into smaller pieces. I like to make piles of each veggie so that I can put equal amounts into the juicer/blender. Firmly pack the container about ¾ of the way and then add purified water. Blend for at least one minute to break up the cellular walls and enjoy!
She adds this about her green smoothie recipe: "Because of the proliferation of toxins in the world, aging due to free radical damage has placed the majority of people on this planet on an accelerated aging path. This green juice combats the free radicals, preventing early degeneration of the body."
Gourmet Green Smoothe Recipes
These gourmet green smoothie recipes are served at the Red Mountain Resort in St. George, Utah. Credit these recipes to Executive Sous Chef Michael Girardot.
Orange-Pineapple-Spinach Smoothie
Servings: 2
1 Handful Fresh Spinach
1 Cup Fresh Watercress
1/2 Cup Packed Fresh Parsley
3/4 Cup Apple Cider
2 Oranges + Add 1/2 inch piece of the peel
1/2 Cup Frozen Pineapple
3 Tbsp. Agave Syrup
1/4 tsp. Vanilla Extract
1 Pinch Salt

Thai Banana-Coconut Green Smoothie
Servings: 2
1 Handful Mixed Greens
3/4 Cup Apple Cider
1 Banana
1-1/2 Cup Frozen Pineapple
1/4 Cup Coconut Milk
1/4 Cup Lime Juice
1/2 Cup Packed Fresh Parsley
1/4 tsp. Vanilla Extract
1 Pinch Salt
2 Kaffir Lime Leaves
1 tsp. Cardamom (optional)

The Science of Green Smoothies
So what exactly makes green smoothies so good? Green smoothies are full of organic and fresh fruits and vegetables. However, the beauty and power of the green smoothie lies primarily in the abundance of the green, leafy vegetables.
Usually, when drinking a green smoothie, you are consuming more greens than you would normally do even if you eat a salad every day. The raw, natural chlorophyll in the greens is a powerful nutrient. Some have considered chlorophyll as the blood of the plant. Chlorophyll has many powerful health benefits. For starters, it is rich in the mineral magnesium.
Chemically, chlorophyll is very similar to hemoglobin in human blood. The only difference between the chemical structure of hemoglobin and chlorophyll is that the atoms composing the chlorophyll molecule is grouped around an atom of magnesium and the atoms that make up hemoglobin is grouped around a molecule of iron. Since "plant blood"is so similar to human blood, scientists have discovered that chlorophyll has many healing properties, to the extent that even blood transfusion do not have to be given.
The high levels of magnesium in chlorophyll may be the reason why drinking green smoothies end many addictions. Many times, sugar cravings are a direct result of a magnesium deficiency. When you feed your body magnesium, via your green smoothies, your cravings quickly fade away.
For more information on the healing power of simple green smoothies, testimonies and green smoothie recipes, I highly recommend Victoria Boutenko's book Green for Life. If you want to be inspired by the power of your next green smoothie, this book is for you.
Green Smoothie Tips
Rotate your greens. Plants contain alkaloids that after a time can be sightly toxic. There is nothing to worry about if you choose a different bunch of greens every few days or so.
If you use more greens than fruit in your green smoothie recipe, your green smoothie may have an "earthy" taste. Adding vanilla extract will help to "cut" the earthy flavor.
Use a high powered blender and blend for several minutes to avoid lumpy smoothies.
Green smoothies keep very well. You can mix up a few blenders-full and keep them in the refrigerator for a few days. They are great to take along when traveling, too.
Green Smoothie Conclusion
My personal green smoothie recipe collection (I make up these green smoothies recipes based on what greens and fruit are in my refrigerator!) has helped me not only to lose weight quickly, but to start and stay on my raw food diet. Green smoothies are easy, economical and practical. A green smoothie is real health food, which gives positive results quickly, easily and is usually good tasting. As long as you have a blender, some organic, leafy greens and fruits, you have no excuse not to eat both raw and healthy.
Other Smoothie Pages:
Healthy Smoothie Recipes
How To Make Smoothies
Breakfast Smoothie Recipes
Blenders for Smoothies

Go from Green Smoothie Recipe to HOME of Raw Food Diet Magazine